aerial photo maps
______________________________________________________________________
GETTING AROUND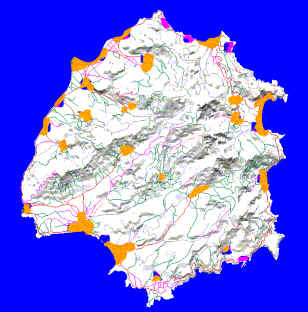 For most first-time visitors to Thásos there is probably enough of interest to be found within walking reach of the resorts not to bother with travel further afield. Much of the land is 'open access', although normal courtesies should apply if you wish to investigate private property. Most of the habitats on the island are extensive and widespread with numerous tracks facilitating access. Guides (in English) to walks in north-east Thásos have been produced by Chilton (1998, updated 2003) and van de Mast & Gruwel [1999]. Both publications include detailed descriptions of the available routes and sketch maps to aid navigation. Van de Mast & Gruwel [1999] can be purchased in some of the gift shops in Thassos Town (possibly elsewhere) whilst Chilton's booklets can be ordered from Marengo Publications.
It would be disappointing, however, if the opportunity was not taken to see a bit more of the island's wild places than the immediate vicinity of the resorts. For the energetic visitor, it is possible, for instance, to walk to the summit of Ypsario from the Skala Potamias area, but the less adventurous may wish to consider exploring by other forms of transport. The local bus services include all of the island's settlements and around the island's main roads they are frequent, usually reliable and relatively cheap. Buses are less frequent to the inland villages. The resorts are well served by local taxis and they can be useful for getting out to a destination which you can then walk back from.
Car hire is available in all the tourist resorts and is highly competitive. At the beginning and end of the season you can get very good deals and it is well worth shopping around. Note that for travel on the forest tracks (unmetalled roads) you may find that you are restricted contractually to 4-wheel drive vehicles or, in many cases, not covered by insurance on such routes. The other alternative is to hire an appropriate motorcycle or mountain bike, again widely available in most of the resorts. Fit visitors may consider cycle hire, but be warned that even the coast road has testing gradients!
The construction of the eyesore on top of Ypsario (a precursor to a proposed radar station, which was abandoned as a result of local objection) meant that the track up the mountain from Maries was surfaced with marble chippings all the way to within about 20 metres of the summit. This took away some of the ambience of being at the highest point on the island but it did mean that access to higher ground along this route was possible with ease. In 2007 the Ipsarion track had noticeably deteriorated, rutted by the spring rains, and it was difficult to pass in places and access to the mountains became harder. These routes are periodically repaired and in 2013 Ipsarion was easily accessible with just one bumpy stretch. Above Maries there are junctions to Theologos and Prinos (Megalo Kazavitis) along reasonable dirt tracks, although the track above Kazaviti is also becoming badly eroded now.
REFERENCES:
Chilton, L. 1998. Walks in northeast Thasos. Marengo Publications.
van de Mast, T. & Gruwel, R. [1999]. Walking on Thassos. (Privately published booklet)