aerial photo

transport
______________________________________________________________________
MAPS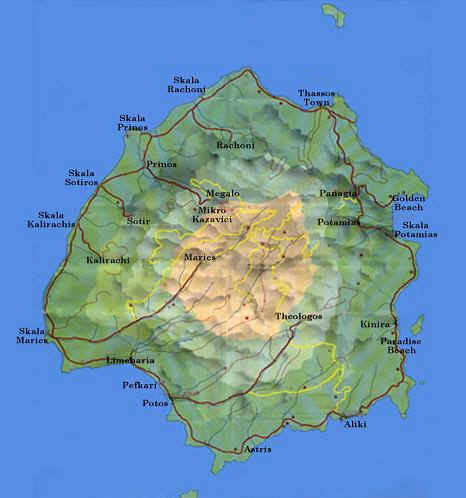 Tourist maps of Thásos are freely available: unfortunately they are of variable quality and accuracy. All show the basic features to enable the visitor to get around the island on metalled roads and to travel from village to village, but the depiction of internal forest tracks varies considerably and is occasionally misleading. Usually the main tracks are shown but the network of internal routes is large and complicated and no single map can be entirely relied upon for navigation in the uplands.
In part this is because some of the tracks become impassable when winter floods wash away critical sections, but the lack of decent maps here was largely due to military sensitivity in view of the island's history and proximity to Turkey. Depicted tracks are usually graded to some degree and it's best to find a route which utilises the more permanent tracks as close as possible to your destination and then be prepared to experiment. There are certain key routes in the centre of the island which are signposted and reliable (although not always shown on the maps!), linking villages such as Theologos, Maries, Rachoni, Panagia and Potamia. In general these tracks are relatively smooth and driveable, although in the vicinity of the marble quarries some sections can get quite rutted.
For so many years maps of Thásos were inadequate and frustrating but now it seems as if as each year goes by there are new and exciting developments, largely made possible by the affordability of GIS and GPS. The first of these was a digital 1:50,000 contour map of the island complete with watercourses, all major interior tracks, and a high proportion of the smaller dirt tracks through the mountains produced by Peter Pernitz. The full digital map can be downloaded as a 1.4mb .png file by clicking on the image below. A version suitable for Garmin GPS (as part of full map coverage of Greece) can be downloaded from http://greece-img.square7.ch/map_index.htm.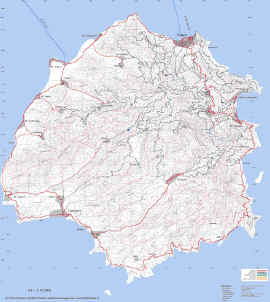 2003 saw the superb addition of Lance Chilton's detailed map of north-east Thásos, covering the area between Potamia bay and the mountain ridges of Profitis Ilias and Ipsarion. This colour map is at a scale of 5.5 cms to the kilometre (1:18,182) and provides a remarkable level of accuracy on all the paths, tracks and roads within the 100 sq. kms mapped. At least in this part of the island there is no excuse for getting lost ever again! The map was available, with accompanying guide book, from Marengo Walks but is no longer in print.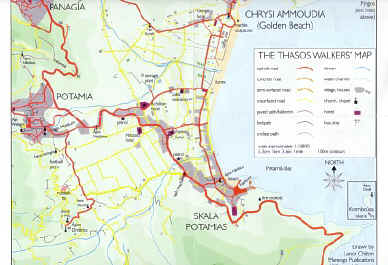 Recently there has been the production of a new suite of maps covering the whole island that contain considerably more detail than in the past. One of the better ones is called 323THASOS, produced by Terrain Cartography, and claims to be generated from 100% Field Survey. It does appear to show all of the main upland tracks and at 1:35,000 scale it allows you to pinpoint your location pretty precisely. Despite the claim for '100% Field Survey' I would regard some of their grading of the status of particular tracks as rose-tinted. Of particular concern is the route from Theologos west to the Kastro Valley, which is depicted as a Scenic Route on a smooth dirt road. It is undoubtedly very scenic, if you get the chance to look away from the track in front of you, but is also very rocky with many deep hollows - even in a Jimny it's not for the faint-hearted!
Maps and guides are also available for walkers - see 'Transport'.